Development kit to solve complex privacy and encryption problems.
Pi-SOFT Tricryption sdk is a set of development tools that empowers you to create secure applications by incorporating industry standard encryption and our key management features.
Tricryption sdk provides system architects and developers with a flexible means to solve and deploy a standardized, interoperable key management solution that can scale with an application's needs.
Tricryption sdk is a highly productive framework for building and maintaining encryption and key management features inside applications.
Each Tricryption sdk includes a development license of Tricryption kS and appServer Agent, header files, libraries, samples, documentation and tools.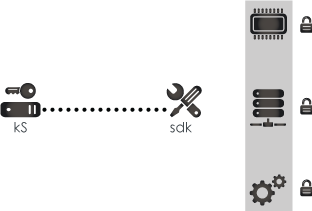 Language Support
Java®
C
C++
Microsoft® .NET / C#
Multi-tier or Client Server Data Driven Development
Build new or modernize existing database driven applications with integrated encryption and key management lifecycles.
Broad Development Language Support
C++, C, Java® J2SE, Java J2EE, and .NET
Infrastructure and Application Framework Compatibility
Integrate with authentication and authorization, increase performance with connection pooling, etc.
Protect all Big Data Flows
Create secure map and reduce readers and writers and secure analytics tools.
Administration API
Administration API access allows for complete application customization and access to all features of Tricryption kS.
Policy Driven Development Support
Utilize a single policy file for entire applications.
Speak to a Data Security Specialist email us: info@pi-soft.tech