High Speed, High Volume Centralized Symmetric Key Management Services
Tricryption® kS software performs symmetric key generation, key storage and retrieval, key authorization, and auditing of key usage. Tricryption kS employs industry standard symmetric encryption keys to provide maximum performance and efficiency.
Tricryption kS offers a wide range of cryptographic, authentication, and authorization options to allow customers to support virtually any global security standard. Every encryption key managed by Tricryption kS is assigned its own dynamic ACL (access control list) and all key access requests are subjected to authentication, authorization and logging. ACLs can enforce rules based on user attributes, times, location, etc.
Tricryption kS is designed to fulfill the needs of complex enterprise architectures, government security demands and business regulations. Tricryption kS securely stores encryption keys for your structured and unstructured data, and hardware devices in a logically centralized repository.
Federation of Tricryption kS services through trust relationships allows the implementation of geographic separation, enterprise segmentation, or multiple information access levels, when required. Federation also enables cross-domain, cross-enterprise secure information exchange and collaboration.
Tricryption kS services support one-way or two-way trust relationships to allow multi-access level architecture implementations.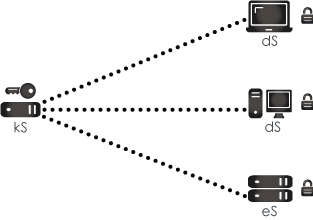 Hypervisor Support
VMware® ESX Server
Microsoft® Hyper-V Server 2008 R2
Xen® Hypervisor
Operating System Support
Windows® XP Professional SP3
Windows 2003 Server
Windows 2008 Server
Solaris® 9
Solaris 10
Linux Kernel 2.6
Speak to a Data Security Specialist email us: info@pi-soft.tech